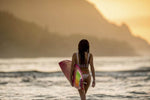 Shop Advanced to Beginner Surfboards Online
Learning to surf or looking to upgrade your surfboard? Explore the range of beginner surfboards to advanced surfboards online at Blackhawk Outdoor. Based in Sydney, we deliver a variety of high quality products throughout Australia.
Not only just for surfboards and accessories, we also stock a huge selection of camping and outdoor equipment to get you completely prepared for your surfing trip or weekend away. Shop our range of quality surfboards and camping accessories online.
Quality Products at Affordable Prices
At Blackhawk Outdoor, we've built a strong reputation for high quality products at affordable prices. With strict quality control standards in place, each product goes through performance, function and reliability testing before being stocked in our Sydney or online store. We're fully committed to ensuring that we pass on premium products that we believe in. Once we agree to stock a certain product, we make sure that our prices are affordable and competitive to give you the best deals on your gear.
In addition to our high quality products, the expertise and knowledge of our staff is second to none. Our team has over eight years of professional experience – and a lifetime of adventures – in camping, outdoor and sporting goods. This allows us to offer personalised advice on a huge range of products and to point you in the right direction to find what you're looking for.
Essential Camping Accessories
If you're headed out on a surfing adventure, you don't want to be running back and forth from local shops to pick up what you've left behind. To ensure that you're fully equipped with all that you need for your trip, we stock a wide range of camping products and accessories from leading Australian and international brands.
Our range includes gas stoves, cooking equipment, solar panels, portable batteries and a wide variety of tools to make camping and adventuring throughout Australia simple and hassle-free. Spend more time on the waves and less time searching for what you've forgotten by stocking up on camping accessories with Blackhawk Outdoor.
Huge Selection of Surfboards
Blackhawk Outdoor stocks a variety of quality surfboards tailored to meet the needs of every surfer. From beginner to advanced, you'll find a surfboard that makes you feel comfortable, empowered and ready to take on the waves.
Whatever your style, shape, colour or material preference, we've got a surfboard to suit your needs. Stocking only high quality products from leading brands, each of our surfboards meets strict performance, reliability and quality requirements. We also stock a huge range of surf accessories and clothing to get you ready for your next surf.  
Explore our full range of surfboards and surfboard accessories online and chat with our Sydney team for expert advice.
Learn More About Our Range
Get geared up for your next camping trip or surfing adventure with Blackhawk Outdoor. With an extensive range of high quality surfboards, surfing accessories and camping equipment, we make outdoor adventures fun and exhilarating.
Whether you're a complete novice or seasoned surfer, you'll find a board to love in our Sydney or online store.
Contact us
on 1300 002 449 for more on our surfboards.