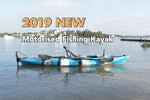 2019 New Motorised Fishing Kayak
Removable hard seat with adjustable back angle for long time comfort sitting.

3 large storage hatches with lock, store your accessories and fishes.

5 built-in gear rails, compatible with RAM and SCOTTY accessories system.

Adjustable foot pedal controlled rudder system, with one cable launch/retrieve system.

Adjustable bungee points covered rear storage space.

Four water channels run through bottom for better acceleration.

Bungee paddle lock on both sides.

NSW pick up from Castle Hill shop.